Bali Guide to Make the Most Out of Your Travel to the Island of the Gods

Bali is known as the Island of the Gods and it can be found in the country of Indonesia. It's a popular tourist destination and this is not a surprise as it has so many great things to offer such as gorgeous beaches, rugged coastline, green rice terraces, towering mountains and beautiful hills. The island is also rich in culture and religious traditions that make it more interesting. This is a destination that would be perfect for all types of travelers, from the backpackers in a budget to those who don't mind spending cash for a luxurious vacation.
Getting In and Around
Ngurah Rai International Airport or Denpasar International Airport is an international airport that serves Bali. It's located between Jimbayan and Kuta, and it's the third busiest international airport in the country. It services flights in different areas of South East Asia, Australia and Indonesia. Your passport must be valid for at least 6 months upon arrival and it must have at least two blank pages for stamping. You may get a Visa from the Indonesian embassy in your area prior to your travel or pay visa upon arrival. You may also have your passport stamped upon entry for Visa waiver.
Most hotels provide airport transfers so discuss this with the hotel the you're booking with in advance. If this isn't available or you haven't booked a hotel yet, there are taxis outside the hotel that you can ride to take you to your destination. Taxis are also available around Bali, which is a convenient way of getting around, although it's not the cheapest. Cheaper alternatives are buses and bemos, which are minivans that is a traditional mode of transportation in the island.
Weather and Best Time to Visit
Temperature during the day is generally nice throughout the year and it's around 20°C to 33°C or 68°F to 93°F. The months of December to March could be wet due to heavy rains, but late afternoon can still be sunny. June, September, Christmas and New Year are high season so there would be large number of tourists and high rates at this time. May and October are off season and the weather is also nice so these months are the best time to travel to Bali. March may be a rainy, but there are several festivals celebrated during this month. If you don't mind the wet weather to enjoy and witness these festivities, you may also consider flying at this time.
Places to Check Out and Things to Do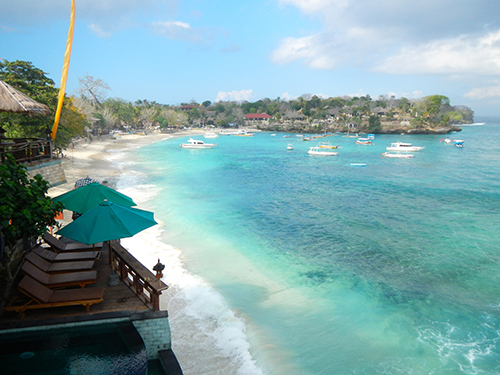 One of the best ways to experience the lives of the locals is by eating their traditional foods. Don't miss out on trying Balinese specialties such as Sate lilit, Babi guling, Bebek betutu,and pepes ikan laut. Visit the Uluwatu Temple, which is located in Bukit Peninsula. It's near the edge of a limestone cliff that gives a magnificent view of vast blue ocean. The peninsula is also where you can find some of the best beaches in Bali so you can go swimming and try various water sports after visiting the temple. Another temple worth checking out is the Pura Ulun Danu Bratan. It's situated around a lake and it would give a sense of serenity and peace. If you're adventurous, climb the Mount Batur at Kintamani and get the most breathtaking view. Other places to see are Ayana bar on rocks, Sanur beach, Lovina and Seminyak.
Do you consider traveling to Bali on your next trip? Share your thoughts with us.
Photo Attribution:
Featured and 1st image By chensiyuan (File:1 pura ulun danu bratan 2011.jpg) [GFDL (http://www.gnu.org/copyleft/fdl.html)], via Wikimedia Commons
2nd image By San Andreas (Own work) [CC BY-SA 3.0 (http://creativecommons.org/licenses/by-sa/3.0)], via Wikimedia Commons