The 10 Coldest Ice Hotels in the World (Part 1)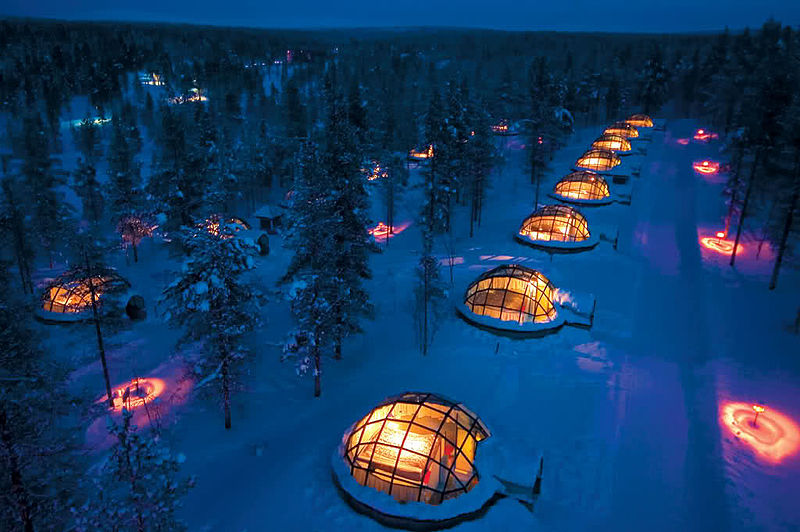 Why settle for the usual hotels you go to when you can have an unforgettable experience in one of the coldest ice hotels in the world? For an adventurer who seeks the thrill of the unknown, these amazing ice hotels are the coolest getaway:
1. Igloo Village Kakslauttanen, 99830 Saariselka, Finland
Visitors can choose to can stay in a log cabin, or a choice of snow or glass igloo. The creative you can request a sculpture artist to decorate your igloo. All cabins and igloos have no television, so recreation can either be a stroll in the gallery, a craft making project, a reindeer drawn sled ride, or a visit to Santa's Resort where you are served hot drinks and biscuits by elves.
Breakfast is served free, while paying restaurants serve Lappish food (a sautéed stew made from reindeer meat) with an igloo bar drink. Pastimes include safari tours, ice swimming, smoke saunas, and watching the northern lights at night.
2. Hotel de Glace (Snow Village), Montreal, QC H3C 4W7, Canada
This hotel is rebuilt every year since 2001 and stays open from early January to mid-March only when temperatures reach 20 degrees. Total rooms are 44 with some simple ones while others have elaborate decors.
Other facilities are a restaurant, ice bar, hot tubs, and lots of fireplace. It also boasts of an ice chapel for couples who want to renew their vows or celebrate their anniversaries, complete with fireworks display, horse-drawn carriage ride, photography sessions, and a violinist playing your favorite tune!
3. Hotel of Ice, Romanian Carpathians
In winter, the Hotel of Ice is surrounded by snow covered peaks that stand above the glacial Lake Balea. The hotel is designed like a large cross on top of the Fagaras Mountains, of which a new structure is built each season.
Diners can visit the Ice Bar where drinks are served in glasses carved from ice and the Ice Restaurant where menus like soups, meat, fish, and desserts are served on ice plates. An Ice Church is the place where representatives from all religious communities can celebrate particular services.
Outdoor winter games include ice skating, skiing, snowboarding, snowball making, ice bowling, and more. Best day to visit is on December 25.
4. Snow Village, Lainiotie, 99100 Kittila, Finland
Hotel guests are treated to an instructed tour of the property, including sleep policies. Each sculptured room has some ice furniture and sleeping bags with wool liners to keep warm. A wake-up service and free hot drink are provided. Bathroom facilities have heating capacity.
Outdoor activities include dog sledding, fishing, snowmobile rides, and reindeer rides. The Log Restaurant serves Lapland dishes with local ingredients for all meals. Snow Village offers bookable sauna use and free parking areas.
5. IceHotel, Jukkasjarvi, Northern Sweden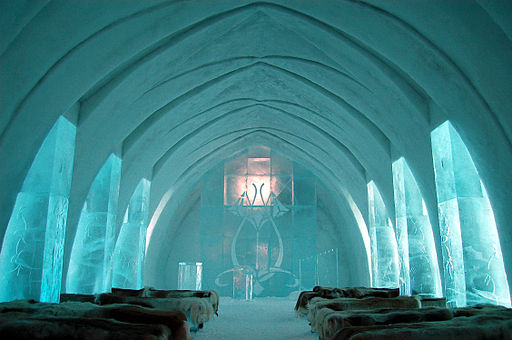 This hotel is said to be the first ice hotel, and the biggest in the world. Since its first opening in 1990, the hotel has since been built yearly from December to April months.
IceHotel features a bar, reception, an ice chapel, and 100 rooms to house its guests. Every room is different from the rest, and furniture and dinnerware are all made from blocks of ice. Amenities offered are sauna within the hotel and hot tubs outside. Although bathrooms are not provided, there is a nearby building warm enough for that purpose.
6. The Snowcastle, Kemi, Finland
This is the biggest fort made from snow worldwide. It has over 20,000sqm and towers over 20m high. It is divided into three parts: a chapel, restaurant, and hotel.
The SnowChapel is ecumenical, meaning it honors anyone and everyone from different religious community. Its capacity is up to a maximum of 100 seats. The Snow Restaurant's ice tables and chairs are covered with reindeer fur to keep guests warm. It also has decorative ice sculptures as décor. The SnowHotel maintains double rooms and honeymoon suites, all decorated by local artistry.
Adults can enjoy a night of theatre of opera singers, and art exhibitions with dancing lights and sounds. Children can find adventure in adventure land prepared for them.
Whatever is your choice of a great time, new adventure, or a once-in-a-lifetime experience, coming to one or more of these ice hotels will truly raise your expectation level for the next six ice hotels on the second part of this article.  Watch out for it!
Photo Attribution:
Featured and 1st image by Tarja Mitrovic (Flickr: Rovaniemi – Igloo village) [CC BY 2.0 (http://creativecommons.org/licenses/by/2.0)], via Wikimedia Commons
2nd image bybjaglin from Lund, Sweden (Ice Hotel Church @ Jukkasjärvi) [CC BY 2.0 (http://creativecommons.org/licenses/by/2.0)], via Wikimedia Commons