The Ultimate Marrakesh Guide What You Need to Know Before You Travel to the Red City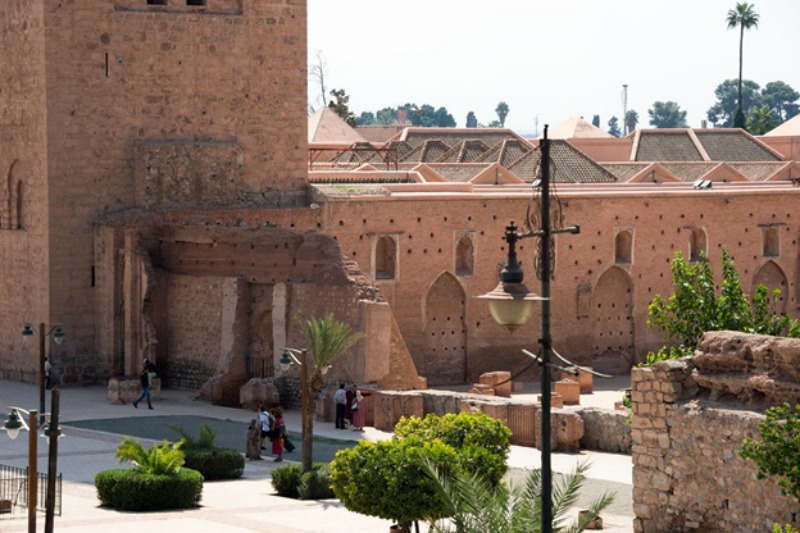 Marrakesh is the fourth largest city in the country of Morocco and also one of the most visited. There's a reason why tourists flock here as an amazing experience awaits you in this place. You can travel back to the old times in the historical town of Medina, and enjoy the modernity of Gueliz. If planning to visit Marrakesh, this is the ultimate guide to check out for the most memorable holiday.
Climate in the City
The summer in Marrakesh can be very hot, while the winter can be extremely cold. This is why the best time to visit the place is during spring season. Aside from having good weather in general, you'll also get to enjoy the fantastic view of colorful flowers and the lush green valleys and hills. The city is packed with people during holiday season, especially Christmas and New Year, so if you prefer a smaller crowd during your visit, you may want to pick a different schedule.
Stay in a Riad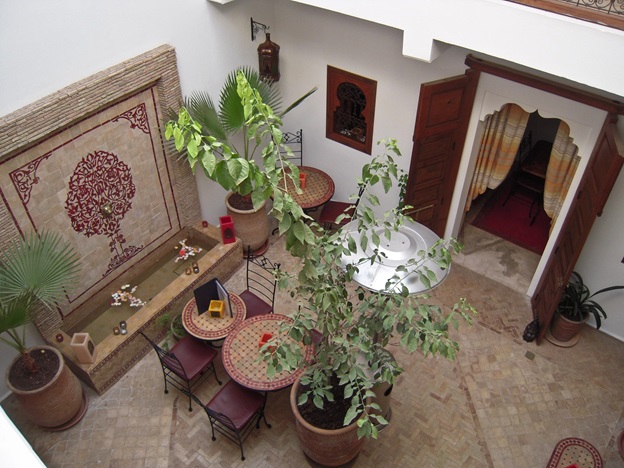 A riad is what you call a traditional Morrocan palace or house. There are several hotels that offer accommodation around the city. Their rates vary and it would not be difficult to find one that meets your budget. However, for the ultimate holiday experience, why not stay in one of the riads, which are also everywhere in the area, especially in the old town of Medina. They are often decorated with Morrocan rugs, glassware and shelves. Don't miss having a breakfast in the courtyard too for the most authentic Morrocan experience.
Try a Caleche Ride
Riding in a horse-drawn carriage may not be your usual way of transportation. So why miss the chance to try something new on your visit? You would find many of these at the Square de Foucauld. Hire one for a more comfortable sightseeing experience around the area. The ride would usually cost you about DH 150 for an hour. It's best to talk to the guide about the price prior to taking off to make sure that you wouldn't be paying more than you should. This is also true when hiring a taxi. Some of the taxis are not metered so ask for the meter to be used to ensure fair charge.
Don't Miss on the Street Foods
It's hard to miss the street foods if you're exploring the city as there are plenty of them, especially at the Djemaa-El-Fnaa. The street foods are delicious and cheap so you'll be able to sample a lot during your stay. Some of the most popular must tries are brochette, couscous and tajine. If you are an adventurous foodie, you may also try other delicacies including offal, sheep's head and snails. Different restaurants serving traditional Moroccan cuisines can also be found around the city.
Shop in a Souk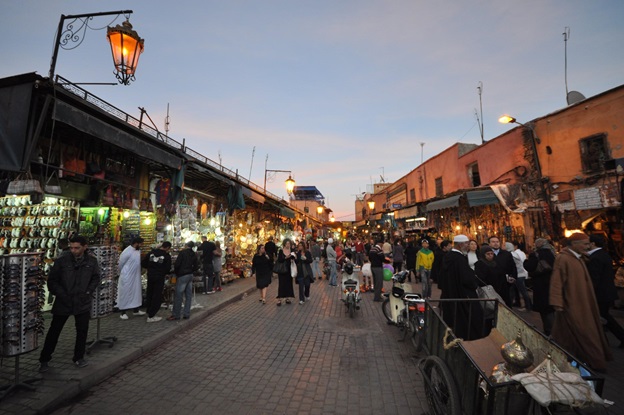 A souk is a marketplace in Morocco. You can find major and smaller souks around the area of Djemaa El-Fna. This is where you can find various products, especially those that are local to the city. Check out the various spices used in Moroccan cuisine. If you're interested in learning how to cook authentic Morrocan foods, this is a great way to familiarize yourself with the usual ingredients. There are also several hand crafted products that you can take home as keepsakes. Some of the most popular products are candle holding lanterns, cactus silk, cashmere shawls, bowls and platters.
You'll have a wonderful experience in the beautiful red city of Marrakesh. Make sure to practice general safety though, as you would on other cities that you've travelled in. You may also want to bring your own tissue wherever you go as toilets often don't have them. What do you think of the city? Share your thoughts with us.
Photo Attribution:
Featured and 1st image by Rigelus (Own work) [CC BY-SA 4.0 (http://creativecommons.org/licenses/by-sa/4.0)], via Wikimedia Commons
2nd image by Michal Osmenda from Brussels, Belgium (Marrakesh Riad  Uploaded by russavia) [CC BY-SA 2.0 (http://creativecommons.org/licenses/by-sa/2.0)], via Wikimedia Commons
3rd image by Jorge Láscar from Australia (Souk – Jemaa el-Fnaa) [CC BY 2.0 (http://creativecommons.org/licenses/by/2.0)], via Wikimedia Commons