6 of the Bluest Waters You Should Visit Soon

Seeing amazing natural wonders will surely give you peace of mind. This is true especially if the place remains untouched. If you can find blue and clear waters, you would want to just jump into it right away and feel totally relaxed. It is like being one with nature. There are 6 of the bluest waters you should visit really soon while they are still fresh and pristine.
Crater Lake, Oregon
This lake is one of the most beautiful all over the US. The reason why it has deep blue waters is that there are no incoming streams or rivers that pollute the water. If you want to go on scuba diving or brave the chilly waters, this is the perfect destination for you. It is also one of the deepest lakes, going down to 1,943 feet.
Con Son, Vietnam
This island is the only inhabited island in the Con Dao archipelago of Vietnam. It is also one of the best hidden secrets of the Earth. It is really far from Vietnam's southeastern coast so it remains unspoiled to this day. You will surely not believe your eyes the moment you get there. It is like a piece of heaven on earth.
Devil's Bay, British Virgin Islands
Getting to this place is extremely difficult. You have to travel quite far just to see a small slice of white sand in the area called the Devil's Bay. The moment you arrive there, you can try snorkeling on its clear turquoise waters. Some tourists prefer to just be there and be in the moment. They take time to enjoy the beauty of the place without doing anything else.
Plitvice Lakes National Park, Croatia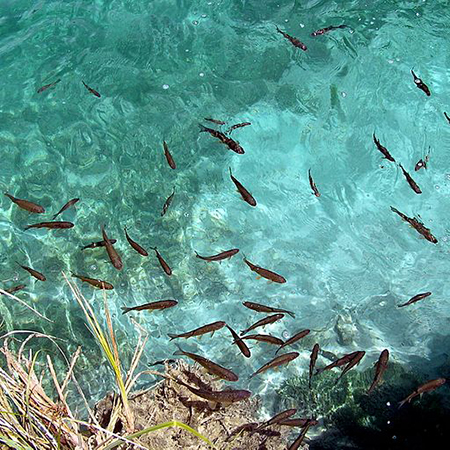 This place is considered a UNESCO World Heritage Site. It has 16 really blue lakes that will make you believe that a god really exists. As you walk deeper into the area, you will find crystalline waterfalls that are just breathtaking. Boat tours are available if you want to get closer to the waters.
Havelock Island, India
This island is located in the very remote Andaman Islands. Getting there is more than just a challenge. Once you get there though, you don't want to go back. There are crystal clear beaches, places for snorkeling where no one can disturb you and experience being in an area totally off the grid. This is truly the definition of paradise. The best part is watching the sunset from this part of the world.
The Maldives
This list will not be complete if The Maldives is not here. It has become one of the most popular tourist destinations in recent years. Celebrities also go crazy over the beauty of this country. The location is just right in between the Indian and Arabian seas. They have talcum-soft white sand beaches. There are also tons of amazing villas you will fall in love with. You can explore the untouched coral reefs or visit the underwater playground. World-class spas can also be found in this country.
Now that you know which of these places are perfect for your next trip, you can go ahead and plan now. Again, they might not remain that way for long due to human activity. You have to be there while you can.
Photo Attribution:
Featured and 1st image by Epmatsw (Own work) [CC BY-SA 3.0 (http://creativecommons.org/licenses/by-sa/3.0)], via Wikimedia Commons
2nd image by Николай Максимович [CC BY 3.0 (http://creativecommons.org/licenses/by/3.0)], via Wikimedia Commons