Did the Airline Lose or Damage Your Luggage? Here's What You Need to Do
It is extremely frustrating to find out that the luggage you have checked in was lost or damaged. Considering the passengers airline staff handles on a daily basis, it is possible that your luggage may be mishandled. This will surely enrage you. Your instinct might be to find an airline staff nearby and scream. It doesn't help in any way.
Start with the paperwork
Once you have realized that your luggage isn't arriving or it has been badly damaged, report it to an airline staff. Try to be as calm as possible. The staff will most likely tell you that they will double check the problem and get back to you. Before they do that, insist that you file a paperwork indicating the incident. This will ensure that an appropriate action is taken. For instance, if your bag was misplaced in a different flight, it will arrive late. Without proper documentation, you might not even be given the chance to claim the luggage upon arrival.
The document to fill out is called the Property Irregularity Report (PIR). Answer it right away and have it signed by the staff. Get a copy before leaving the airport. Take note that this document is not the same document to be presented when claiming the luggage later on. It will just notify whoever the staff on duty is that you have already filed the paperwork and you must not be denied of the luggage. Some airlines would require you to write a separate document for claiming. The good thing about answering the PIR is that in case your luggage won't arrive or the one given to you has been severely damaged, you can make a compensation claim.
Delayed luggage compensation
Some airlines will pay those who are in transit for delayed luggage. The basic items that you need will be paid for by the airline, but there is a ceiling amount. Some of them would even ask you to buy the items first and just give them the receipt for refund. Just don't expect them to be extremely generous in giving compensation. If your luggage was delayed and you are on your final destination, they might not even refund you for buying stuff but will deliver the delayed to your house for free.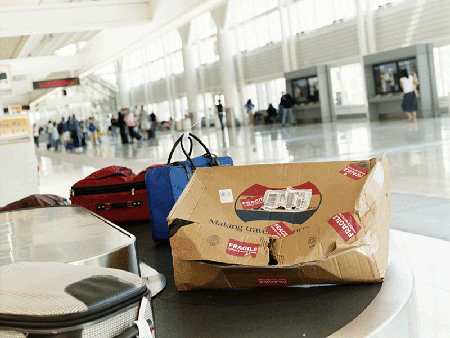 Lost luggage compensation
This is perhaps the most frustrating of all. Since your luggage was lost, no one really knows how much the cost of the items inside was. Airlines would pay around 500 to 800 pounds depending on the indicated weight. Some others would even require you to show proof of what was inside the bag so they can easily estimate the cost and have you refunded right away. Taking images of the content before leaving would be of great help.
Policy on stolen items
Perhaps, this is the most difficult situation to deal with. Airlines usually don't pay for stolen items as you have no proof you had those items to begin with. Unless you have proof that it was there and it got lost along the way, they will most likely reject your claims. The only way to avoid this is by not placing valuable items on your checked-in baggage. Laptop computers, jewelry and cash must be on your carry-on luggage instead.
Now that you know what to do in this unfortunate circumstance, you should not panic the next time around.
Photo Attribution:
Featured and 1st image from https://gezi.com/blog/9-ways-to-recover-from-lost-luggage-syndrome-737/
2nd image from http://blog.tugo.com/en/blog/top-secret-travel-baggage-claim-tips/