Experiencing the Night Markets in Bangkok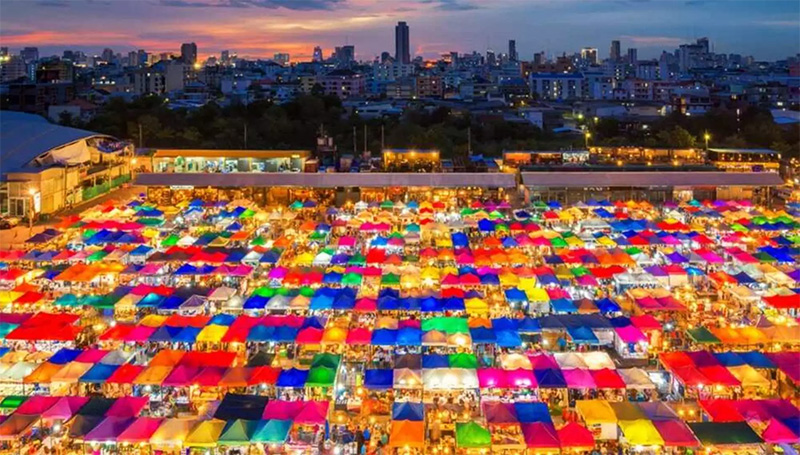 Shopping is one of the many activities that lure visitors to Bangkok. But aside from the numerous shops you can find in the city's shopping districts, the other thing that attracts visitors is Bangkok's night market. Indeed, it could be an experience like no other, depending on your perspective.
Here are some of Bangkok's vibrant and lively night markets that can make your head spin for the sheer number of items they sell.
Rod Fai Market
Rod Fai is also known as a train market. It is at Srinakarin Soi 51, Ratchada, and opens from 5 pm to 1 am from Thursday to Sunday. It is called a train market because it is located close to the train tracks on the outskirts of Bangkok. It is quite popular with travelers who love vintage memorabilia and antiques. Of course, there are other attractions, including eateries and bars.
The quality of the goods is better, and the prices are lower than the other markets in the city. The Rod Fai market has three locations, but the one at Srinakarin is the oldest and the largest.
Chatuchak (Jatujak) Weekend Market
The Chatuchak weekend market is Bangkok's most popular and largest night markets, located at 1 Kamphaeng Phet 3, Chatuchak. The plant section opens on Wednesday and Thursday from 7 am to 6 pm. For wholesale buyers, you should go there on Fridays, from 6 pm to 12 mn. The whole market opens on Saturday and Sunday, from 9 am to 6 pm. Shopping at Chatuchak, which also goes by the name JJ Green Market, can be dizzying by the sheer number of stalls (about 15,000) and the range of products you can find there. The market not only contains thousands upon thousands of items, large and small. You can sample many Thai and Western delicacies that suit every palate. Hold on to your bag, as the weekend market typically attracts around 200,000 visitors every weekend.
If you're adventurous, do not miss out on sampling a bowl of the flavorful Thai Not noodles. You should try to sample the variety of Thai grilled food, from seafood to poultry and meat. What can you buy at Chatuchak? You can purchase fashion for men, women, and children, bags, hair accessories, hats, shoes, slippers, socks, paintings, dried snacks, toys, and souvenirs.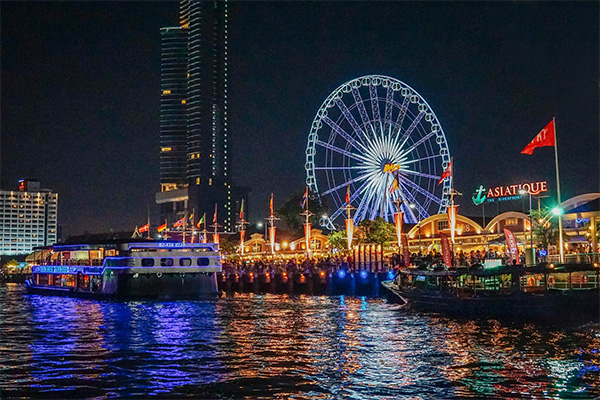 Asiatique the Riverfont
Sitting along the banks of the Chao Praya, on the city center's south side, is the Asiatique the Riverfront. It is classified as a market, but it looks more like an outdoor shopping mall, complete with boutiques, shops, restaurants, and cafes representing local and international brands. Asiatique the Riverfront opens at 11 am but is a haven for night shopping and entertainment. Most locals recommend going to Asiatique from 5 pm. Like other night markets, you can find fashionable clothing, footwear, bags, accessories, and souvenirs. Stay at the place for about three hours to enjoy the entertainment and the variety of sumptuous dishes.
There are other night markets in Bangkok. You can sign up for a guided cycle evening market tour to visit several markets in one go. The guided tour includes a trip to several sites, including temples.
Photo Attribution:
1st & featured image https://image.kkday.com/v2/image/get/w_1920%2Ch_1080%2Cc_fit%2Cq_55%2Ct_webp/s1.kkday.com/product_141142/20230321015639_oINJu/jpg
2nd image by https://www.cktravels.com/wp-content/uploads/2020/01/DSC09793.jpg